Our 2018 Spring Squires program is for our youngest players born between January 1, 2014 to June 30,2015.
The Squires program introduces soccer to promote coordination, movement and balance and most importantly fun, fun and fun. NFMSC Squires program promotes a love for the beautiful game of soccer in a safe and controlled environment.
The Squires program also teaches the fundamentals of soccer through a program of structured activities and fun based games designed to stimulate a child's imagination and develop motor skills. Our philosophy in this program is rooted in "Camouflage learning" and "Getting started" with the ball. Soccer knowledge is gained through games where players are acting like pirates, animals, and driving soccer cars ect. All while learning different techniques and skills used in soccer.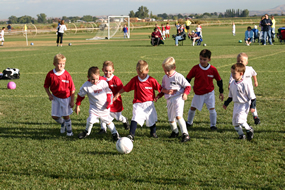 Program Overview
Boys & Girls

January 1, 2014 to June 30, 2015

7 week program available in Spring

1 hour training session per week with a game at the end of the training session

Training by

qualified volunteer coaches

NFMSC Squires T-shirt for each player

NFMSC Squires Medal for each player

Price: $40
Registration for the Squires program will be held at one of our onsite recreational registration dates at the Bayshore Soccer Complex. A state issued Birth Certificate is required at registration.